Do You Have Time to Plan?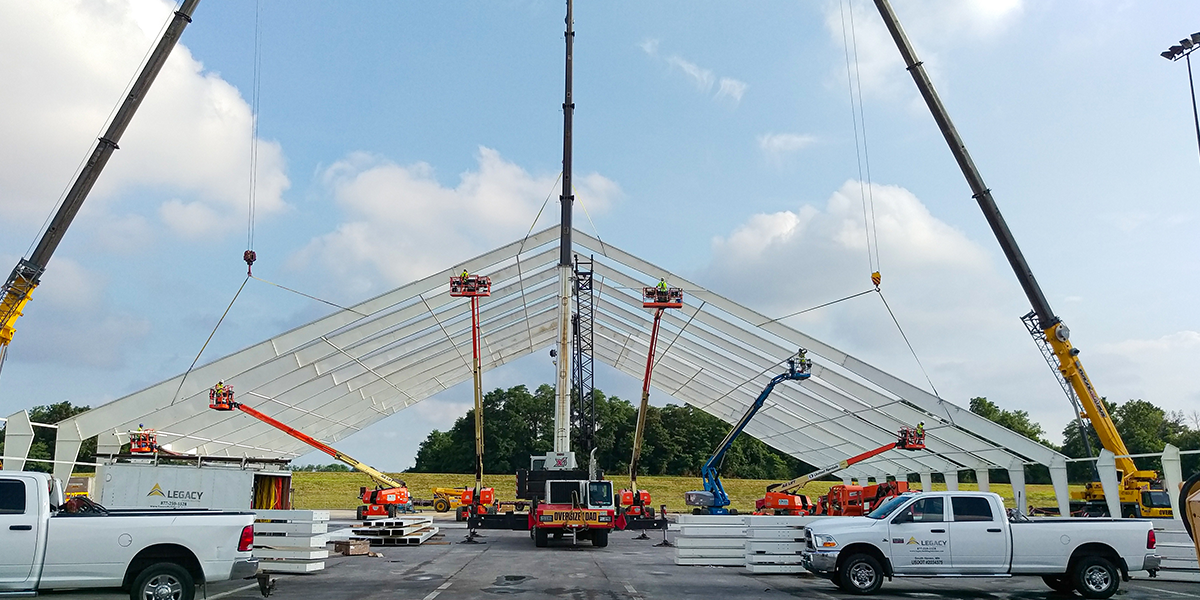 Ben Franklin said, "If you fail to plan, you are planning to fail." Trouble is, up until recently, who had time to plan? The day-to-day rat race often left planning on the back burner.
Now we all have time to plan, to strategize, to create a better future for ourselves and our organizations. We at Legacy know that budgets and funding are up in the air right now due to the pandemic and its economic fallout. But that doesn't mean you can't plan, and we can help.
Legacy provides more than just the manufactured components and the installation of our tension fabric structures. We provide solutions that include design, contracting, customization and the discovery of our customers' needs. It's a whole team of professionals who can walk you through all the preparation and planning that goes into an installed fabric building.
Here are five ways we can help you plan for your next building:
Estimating
Our building and project design consultants will run you through a series of questions about your building, your needs, your limitations and your budgetary constraints. Our consultants then work with our estimating team to optimize the design to fit your end goal. Each of our consultants specializes in a particular sector of the economy—from aviation to warehousing, from sports to equestrian—and are experts in the needs of their market.
Some of the steps we will walk you through are summarized in this blog.
Engineering
At Legacy we pride ourselves on our engineering, what we call "engineering certainty". That means our designs abide by engineering practices recognized across the industry. Consequently, most engineers can pick up our plans and drawings and instantly understand them. We will make sure your structure abides by all the local building codes including wind speeds, snow loads and seismic codes. We will also work closely with your architect to make sure the building precisely meets your needs.
Contracting
Perhaps it goes without saying that getting the paperwork correct is important when you are planning a building. Our team will make sure i's are dotted and t's are crossed. Our building and product design consultants will work with you to make sure the contracts are all finalized and approved as part of the planning process. They make very complex contractual requirements clear and understandable.
Designing
Our design team will take the estimating and engineering data, and the years of know-how, and translate them into a CAD blueprint that will eventually be your building. These drawings are an iterative process, so you will see your building come together with sign off approval at different points along the way. Our designers use industry-standard software (Metal Building Software or MBS) that adds to the engineering certainty of the project.
Communication
Throughout the process and even after installation of the structure, Legacy will maintain a level of communication that will build your confidence in the project. You can expect Our building and product design consultants to communicate with you on a regular basis; you will never feel out of the loop. They are always available to consult and their constant updates will keep any anxiety at an absolute minimum.
"From the get-go, Legacy Building Solutions has been absolutely wonderful to work with. Their mission is customer service. If you have any questions, you don't get the runaround and someone is on it right away, and they stay in communication with you. If you are in need of a building, look to Legacy Building Solutions and let them put together the perfect building for you."
Mike Kuka | Kuka Equestrian Center
While the future, and your budgets, may be uncertain, you probably have a general idea of what you need. Plan now. With the help of our teams, we can build a list of your needs and a list of your wants. Then we can see what we can build together.