Fabric Buildings for Government and Municipalities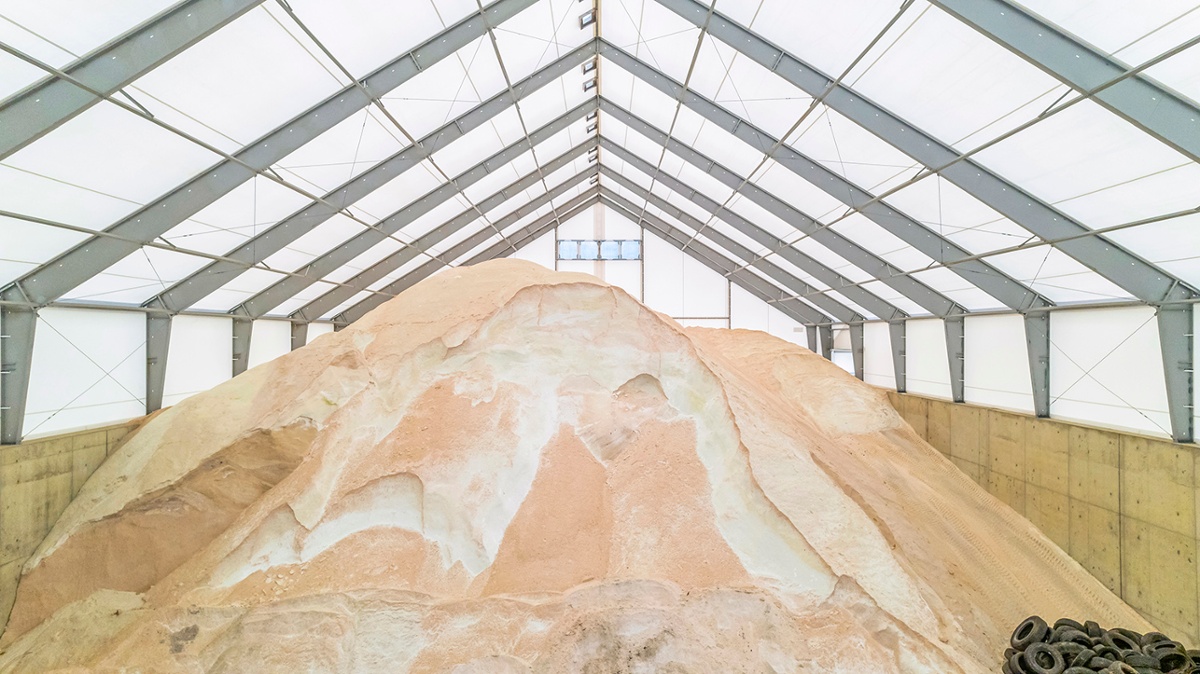 Public works is an industry with which fabric buildings have a long-standing relationship. Legacy Building Solutions understands the challenges and expectations of departments such as municipalities, highway departments, wastewater facilities, and more face day-to-day. This means department leaders, procurement specialists, and design professionals can proceed in confidence knowing Legacy is providing accurate budgeting resources and knowledge when planning and budgeting for capital improvement projects.
Project Phases
Legacy has a tried-and-true method of reliably delivering a building that performs. We pride ourselves on being involved from the beginning and throughout the process. Step one, of course, begins with the design. Our building and project design consultants note the needs and limitations of your building project and this is followed up with the estimating team tailoring a building to fit your end goal.
Once the design and building features are submitted to our estimating and engineering department, they will apply the appropriate geographical building code and design load criteria to ensure the building satisfies both operational performance and local environmental requirements. The building and project design consultant coordinates design activities while assisting in generating project-specific specifications and remains with the project throughout preliminary budgeting, planning, solicitation, manufacturing, and construction. And finally, we at Legacy have our installation crews who lead the industry in experience and efficiency.
Throughout the entire process, we maintain communication among all parties and find that to be a particularly important attribute for a good working relationship and successful outcome. Neither you, nor key stakeholders, will be left out of the loop.
Why The Industry Loves Fabric
We know buildings, and we also know how to tailor them to the needs of municipal industries. We've been advancing our skills over the last decade to design innovative buildings with unique features and engineering that set us apart from our competitors. We understand public agency employees are often busy keeping up with daily duties and have limited time and resources. Legacy focuses on delivering low-maintenance, durable buildings capable of performing under extreme conditions. Build once, build right.
The features listed below provide a wide range of performance attributes that make Legacy structures a great fit for anything from salt/sand storage to biosolid cake storage and UV disinfection water treatment pool covers.
Features
Rapid construction: with our patented membrane attachment system and building technology, our buildings go up quickly and securely. Rapid construction allows for your operation to be up and running faster, delivering a quicker return on your investment.
Low maintenance: despite what one may think, fabric has high tensile strength. It holds up in extreme weather, handles wear and tear, and does not corrode.
Design flexibility: rigid steel I-beam frames use proven engineering principles for design options that were once not feasible in the fabric building industry, including: straight sidewall clearance, clear spans exceeding 300 ft, lean-tos, off-set peaks, gutters, and much more.
Scalability: we can support overhead cranes, conveyors, catwalks, mezzanines, HVAC, fire suppression, and more from our solid steel roof beams. The best part: as your operational needs grow, so can your building.
Natural light: uninsulated white PVC ExxoTec™ fabric has 12% translucency. This creates an optimal working environment, and the clean white creates a great-looking space that maximizes the light within.
Passive ventilation: we have designed the building to create passive airflow, a system that naturally pulls air through a combination of under-eave soffits and roof venting. Not only is it a lower cost, maintenance-free system, but it also improves air quality and leads to less caustic conditions when storing corrosive commodities. A dry building leads to a better-quality product, less maintenance, and longer life expectancy of your assets.
Corrosion Protection: EpoxxiShield™ coatings are available to provide up to 13 mils of a protective steel barrier (more than three times the ASTM A123 average coating provided by hot dip
galvanizing). The solid steel frames are much better protected by providing a barrier between the raw steel and corrosive environment – aiding in the prevention of a corrosive response from occurring. This results in a longer span of time before potential maintenance is required and extends the overall life expectancy of your asset. Unlike galvanizing, where the galvanizing serves as a sacrificial layer bonded with the steel, and once depleted, leaves few options for repair. EpoxxiShield™ coated steel can be visually inspected and touched-up as needed. Our steel typically carries a 15-year warranty (even in a corrosive environment).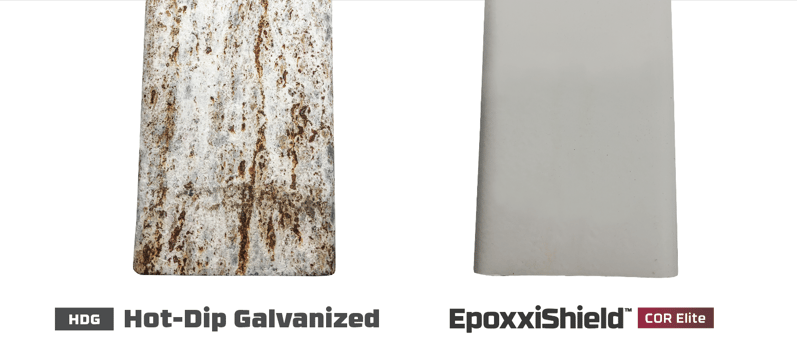 Engineering
Legacy uses solid structural steel with thicknesses that range from ¼" to 1 ½" thick to create our I-beam frames vs. the competitors' 10-14 gauge thin-walled tubular steel, which comparatively range from 9/64 – 5/64 thick. While also being lighter duty, these tubular systems often do not have an interior protective coating to prevent interior degradation. When thin-walled, high gauge tube steel begins to corrode, it can go undetected inside the tube and lose structural value very quickly. Thicker, heavier duty frames are more resistant to incidents and plate steel provides flat and structurally capable surfaces to install flush wall-mounted ancillary systems.
Legacy has a patented fabric attachment system that utilizes bolts rather than field-installed screws. With bolts, you gain greater strength capacity, and the installation process is less susceptible to faulty installation. The patented system also provides a more effective tensioning of the fabric panel, allowing for both horizontal (side-to-side) panel tensioning and vertical (up-and-down) tensioning – thus extending the life expectancy of the fabric. Tight and secure fabric is critical to life expectancy and performance!
Let us Start a Conversation
Set aside any preconceived notions of fabric. Fabric proves itself within its strength and the features it brings. Legacy's engineering and extensive experience in working with government and municipal projects sets us apart. All we ask of you is to have confidence in our product and service. Click the button below and allow us to share that knowledge with you.