Fabric Liners: The Best Way to Prevent Corrosion in Storage Buildings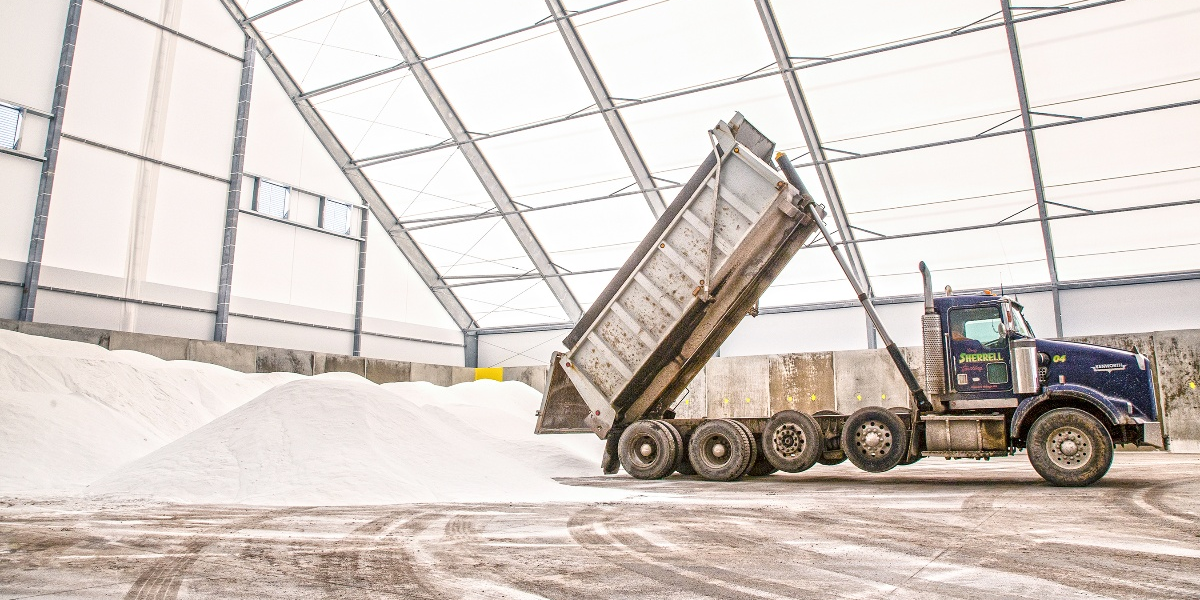 Corrosion is the deterioration of metal caused by the reaction of metal within the environment. Corrosion naturally occurs anywhere metal is in contact with humidity, sea air, chemicals, fertilizers, road salt and more.
Corrosion causes metal buildings to become ugly and unsafe, and can damage stored materials — especially when the buildings are exposed to corrosive elements. The National Association of Corrosion Engineers estimates the direct cost of corrosion in the United States at $276 million.
Using fabric is one way to prevent corrosion in buildings. Fabric has non-corrosive properties that make it longer lasting building in corrosive environments. Fabric buildings are especially popular for bulk storage uses including salt storage, fertilizer storage, and marine and mining sites.
For the ultimate in corrosion protection, a fabric liner keeps all corrosive elements out of contact with the steel frame, and prevents corrosion from starting in even small or hidden areas.
What Is a Fabric Liner?
A fabric liner is a layer of architectural fabric attached to the inside of the building frame. The liner provides a continuous barrier that, unlike many traditional steel coating methods, will not pit, chip, or crack over time. The fabric liner keeps all corrosive elements completely separated from the steel frame.
See the details of a lined fabric structure used for storing fertilizer.
Legacy liners are a permanent barrier that's attached to the building using our patented attachment system. Most liners are made of 12 oz. PE fabric, although other options including clear fabric are also available.
Advantages of a Lined Fabric Building
In a lined building, there simply isn't any steel in contact with corrosive elements. The inside and outside of the building are both protected with a sturdy fabric membrane. Liners are also the only option to stop dust and bulk material from settling on the frame.
On their own, liners are extremely effective for those who want to prevent corrosion in buildings. For highly corrosive environments, such as mining sites, the liner can be combined with hot dip galvanizing for an even higher level of corrosion protection.
Take a video tour of a lined fabric structure.
Liners are also a cost-effective alternative to epoxy paints. Liners also have the advantage of covering every part of the steel frame — even welded areas, fasteners, and other parts of the frame that may have been missed by the epoxy.
A liner can also help the building keep a neater appearance. In addition to preventing corrosion, the liner keeps dust, debris, and even birds from settling on the frame.
Learn more about innovative methods that prevent corrosion on tough job sites.
Preventing Condensation in a Lined Fabric Building
Moisture is another element that causes corrosion. Lined buildings feature a separate cavity ventilation system that prevents condensation and moisture build-up on the frame.
Soffits for intake and peak exhaust vents create a passive ventilation system that keeps dry air blowing around the frame. The passive ventilation system uses gravity for a maintenance-free system with no ongoing costs.
Fabric lined structures prevent corrosion and are a long-lasting, cost-effective solution. All steel components are permanently protected from corrosive elements both inside and outside the building.
Interested in learning more about our anti-corrosion solutions? Contact us today.