Legacy's Patented Attachment System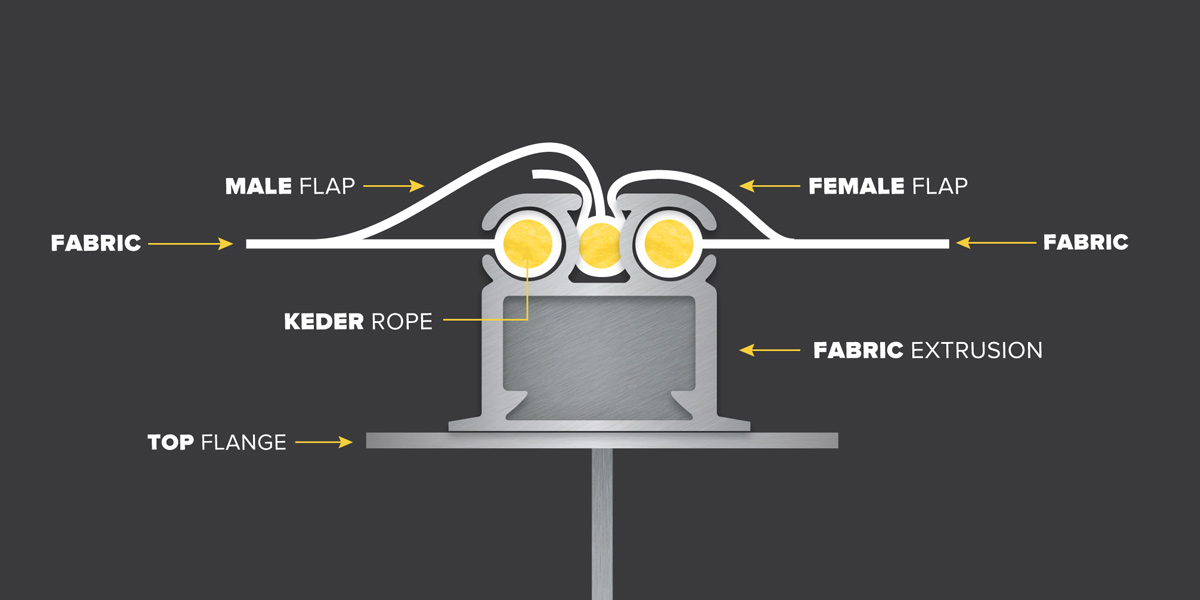 Legacy's Patented Attachment System
Fabric buildings are a popular choice for bulk fertilizer storage. The fabric cladding has non-corrosive properties, making them a long-lasting option when storing corrosive material. Moreover, the large clear spans of the buildings make them a cost-effective choice.
Legacy Building Solutions offers fertilizer storage buildings with the design flexibility of steel-framed buildings. This is made possible through a patented attachment system (U.S. patent No. 9,038,349). It also provides the added benefit of non-corrosive fabric cladding.
Typical Fabric Building Attachment System
Many fabric building manufacturers use a keder rail to attach fabric to frame. The industry standard system uses a keder rail attached to the trusses using small tek screws. Because this does not allow for horizontal movement of the keder rail for biaxial tensioning, the installer must either flex the truss or use telescoping purlins to move the frame during fabric installation.
Learn more about the fabric building installation process.
The other challenge with this system is that it depends on all of the tek screws being installed with proper torque. Tek screws are often over torqued, reducing the hold-down capacity due to human error. Additionally, the small tek screw heads create flex points in the aluminum keder extrusion, creating possible failure points.
Using Legacy's patented attachment system, each fabric panel – typically 20 feet wide – is secured to the frame using a keder rail that slides horizontally on the top flange of the frame, eliminating the need to detach or flex frames during installation.
Each roof panel is welded together to create a waterproof, sealed exterior membrane. Roof panels are manufactured in a manufacturing environment for tight quality control. There are no tiny holes from bolts or screws like on a metal building roof, which can allow drips and leaks over time.
Fabric building roofs have multiple advantages.
The system also uses horizontal mechanical tension to stretch the fabric to the recommended level, keeping it taut and preventing friction for the life of the building. There is regular support and tension both vertically and horizontally, which is critical to ensure a wrinkle‐free finish and a long fabric life. Legacy buildings do not require fabric retensioning after installation.
Large Fabric Buildings
Safety during construction is a significant benefit of Legacy's system. Frames are completely braced and all cross cables installed and tensioned prior to installing the fabric onto the building. The frames do not need to be flexed or bent in order to allow for the fabric to be properly installed.
Safety first in fabric building installation.
The separate panel system allows for greater pre‐tension on the width of the panels, which means more uniform tension and longer lifespan for each panel. There is also greater vertical or "up and over" tensioning because the fabric is tensioned in a straight line, not around any curves or radii.
Sturdy Fertilizer Storage Buildings
Legacy's attachment system changed the game in terms of building safety, quality and longevity. The patented system combines the benefits of steel-framed structures with the advantages of fabric, for fertilizer storage buildings that outlast the competition.
No matter how you will use your fabric building, Legacy's patented attachment system will provide the most secure fit and the longest life for your fabric building. Contact us now to learn more or get started with a quote.