Our Installers travel worldwide to help military clients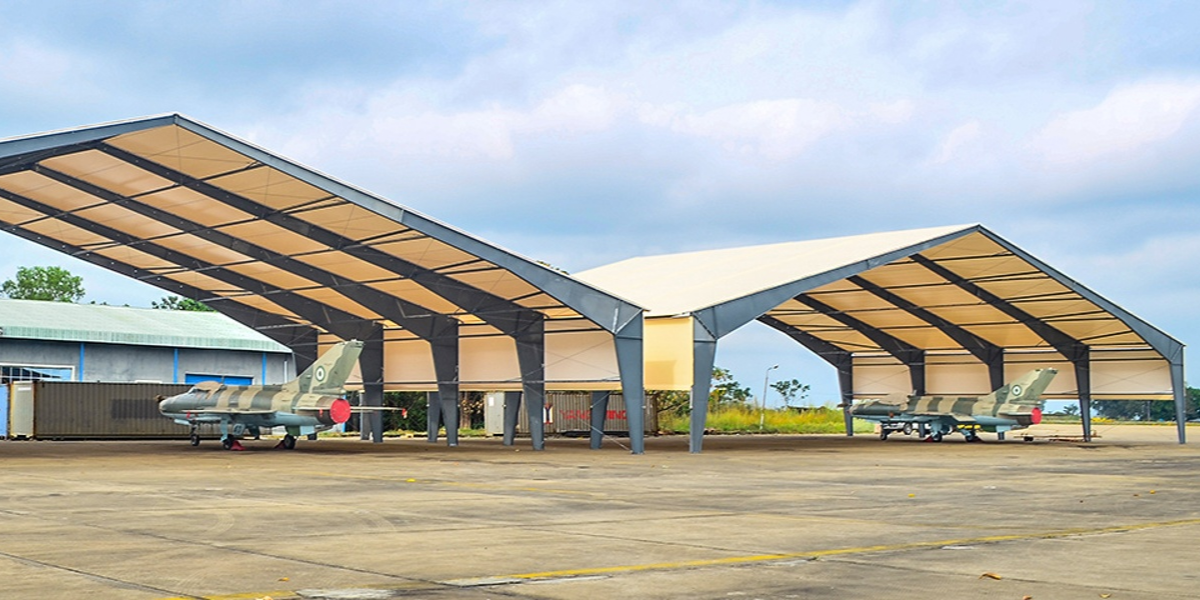 Fabric buildings are the ideal solution for military applications including ammunition storage facilities, POL and wash-down shelters, national guard logistics buildings and aircraft hangars. The buildings are engineered to withstand heavy use and extreme weather conditions worldwide.
Modern military architecture depends on buildings that are safe, long-lasting and efficient. Fabric buildings have several advantages for military use:
Worldwide installation
Customizability
Clear span capabilities
Expedited construction
Fabric Building Installers for the Military
Installing custom tension fabric buildings is a specialized skill best performed by trained professionals. While there are some simple fabric sheds or small buildings that may be erected by the building owner, the rugged permanent and semi-permanent buildings required for military use require professional fabric building installers.
Legacy employs factory-trained installation crews deployable to any location worldwide and on the road 12 months a year. With the professional crew handling all aspects of construction, you can focus on other priorities.
Our patented installation method is designed to be the safest and fastest in the industry. Installers follow strict safety requirements set by OSHA and other bodies as appropriate.
These same crews are also the best source for fabric building repair and replacement. Learn more about the options to repair, replace or upgrade your building.
Customizable Military Buildings
Factors that influence the design of your building include use, available land and building codes. Each Legacy building is fit for purpose and location.
These are soft-sided shelters with the proven strength of a rigid steel frame, allowing the design flexibility to meet unique needs such as space to store and maintain large aircraft, insulation and climate control systems and large doors.
Unique shapes like monoslopes, connections to existing buildings and gambrel roofs are also options.
Clear Span Capabilities

Freespan buildings without support columns mean more interior space. There is nothing to maneuver around, and no square footage lost to building support.
This is especially critical for aviation hangars, wheeled vehicle maintenance shelters and LAMS. Combining a sturdy steel frame with ripstop fabric cladding allows buildings that are wider (up to 300 feet or more), longer and taller than other clearspan options.
The strength of the rigid steel frame also means freespan capabilities in addition to other hanging loads, including fire suppression systems, lighting or HVAC.
Expedited Construction
Even Legacy's service is a custom fit for you. In-house teams provide quotations in just a few days, along with an accurate price quote and projected timeline. Highly responsive crews are available to help write a spec or respond to your RFP.
Fabric cladding is installed in about one-third the time of steel sheeting. While our fabric buildings are not classified as rapid deployment, the building will be useable weeks faster than a pre-engineered metal building.
Legacy buildings are impacting military base architecture stateside and overseas. Get started today.