Rigid Frame Structures vs Inflatable Sports Domes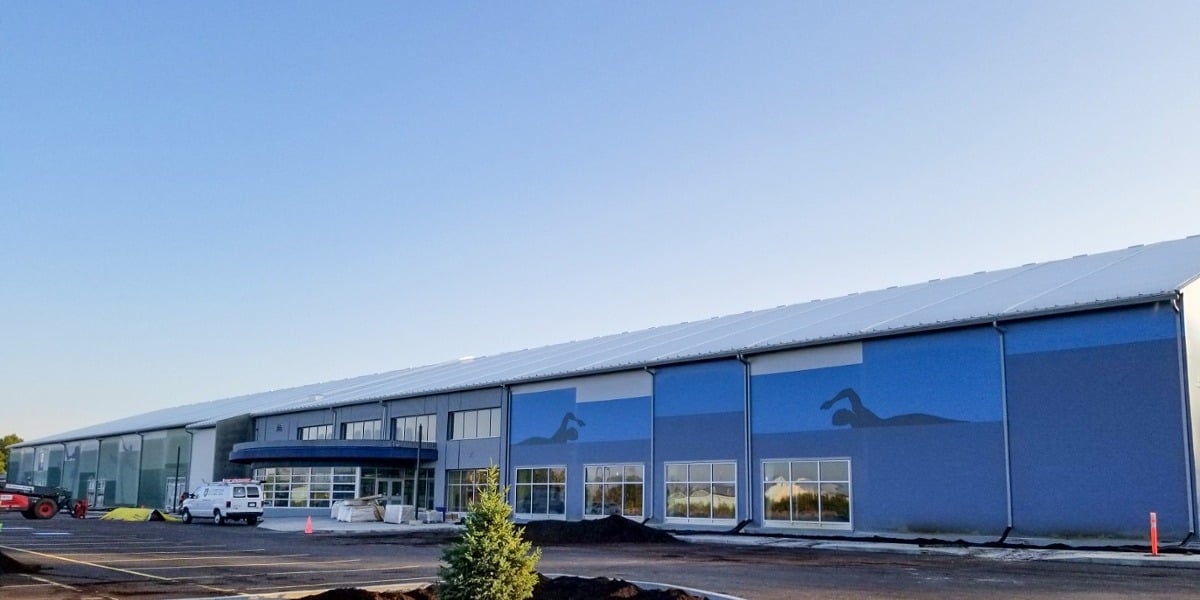 Air-supported fabric structures – also known as sports domes or sports bubbles – are a tempting solution for indoor sports arenas. Bubbles are available with a large free span area and with a lower price than traditional sports arenas.
Sports domes have the advantages of fabric buildings, including natural light, rapid construction and a relatively lower cost. But in a head-to-head comparison with steel-framed fabric structures, inflatable buildings fall flat.
Similarities between frame-supported and air-supported structures
Sports bubbles and frame-supported fabric buildings are constructed of industrial fabric, typically polyvinyl chloride (PVC) or polyethylene (PE).
The differences between PVC and PE are worth researching. Things to consider with the two fabrics include:
Long-term Durability
Strength
UV resistance
Fabric as a building material is easy to work with. Trained crews are required for the highest-quality installation. Fabric installs more quickly than traditional building materials, allowing the building to up and running sooner.
You can read more on industrial fabric here.
The fabric used in both frame-supported and air-supported buildings is available in multiple colors, and some companies can design elaborate and decorative fabric exteriors.
With some framed buildings, traditional insulation can be added between the exterior fabric and an interior liner. That gives the building owner the option of adding climate-control systems to create the best environment for year-round use.
Air-supported and some framed fabric structures are available with wide clearspans, with no supporting columns needed to support the fabric. This makes them especially popular for sports where interior columns would interfere with daily use.
Disadvantages of Inflatables Buildings
Inflatable buildings are often designed as temporary, to be used during the season, deflated and stored for the rest of the year. Frame-supported buildings are permanent and designed for year-round use.
All fabric requires some type of support. Sports domes use air pressure to keep the dome inflated, and that means the need for inflation is constant.
When in use, air-supported buildings must be constantly monitored and inflated. Snow build-up on the building can cause permanent or temporary damage. Losing power often means your sports facility will collapse.
Put up, Take Down, Repeat
Sports bubbles used seasonally must be re-inflated at the beginning of the season, deflated at the end and then stored. During each assembly and disassembly, the playing field is out of commission for several days while technicians complete the process. This results in lost-time costs as well as the costs for the technicians themselves.
Limited Options
"Bubbles" and "domes" got their name because of their shape. The air support system creates a smooth, rounded shape. The inside of the dome is one large, open area.
In an inflatable building, it is difficult to add additional features to the building or separate areas to use for a pro shop, spectator seating or locker rooms. The door options are limited to maintain air pressure. And the inflation will not support additional loads from mounted scoreboards, netting or divider curtains.
Finally most air-supported structures come in standard sizes, so there is almost no customization. If you have special requirements, bubbles don't easily accommodate them.
Ongoing operating costs
Although the up-front capital cost to purchase air-supported sports facilities is less, the yearly cost to operate them is considerable. The bubble needs to be inflated, and remain inflated 24/7. In addition to keeping it heated in the winter, and cooled in the summer, there is virtually no insulation. The pressurized nature of the facility means a lot of heating and cooling goes right out the door when people go in and out of the facility.
Look and Feel
As a building owner, you want your sports facility to feel as much like the big outdoors as possible. The air quality inside the air-supported structure is pressurized and that doesn't feel natural. The curved walls and limited peak height give you, and your athletes, less overall space to work with. You don't want your structure to impose limits on your users' capabilities.
Advantages of frame-supported fabric buildings
Modern tension fabric buildings use the same proven engineering techniques and solid steel I-beams as traditional structures. They are designed to last for decades without additional operating or maintenance costs. They are engineered to stand up to high winds, snow loads and seismic activity.
How do steel-framed fabric buildings withstand environmental loads?
Airlocks are not required for the structural integrity of frame-supported buildings. Windows, vents and doors are options to keep the building at a comfortable temperature and very accessible.
The frame can be engineered to handle multiple design options including:
Scoreboards
Goal posts
Netting
HVAC and Fire suppression systems
Sound systems
Multiple cladding options, including stonework and masonry, can be added to the steel frame as an exterior accent to the fabric cladding. Tension fabric field houses look just like traditional buildings with high peaks and straight walls. That gives your teams more room inside to pass, punt, kick, bump, lob and hit fly balls. The traditional shape of the frame building makes it blend in with surrounding architecture, often a plus in university settings.
The benefits of tension fabric structures – including design flexibility, energy efficiency, beauty and long-term durability – are a sharp contrast to air-supported sports facilities. Take a serious look at what you need in a field house and then talk to us about what we can design for you.
Looking at Building a New Athletic Facility? Here's What You Need to Know [webinar]