Standard Fertilizer Storage Bins: Saving Money with a Legacy Building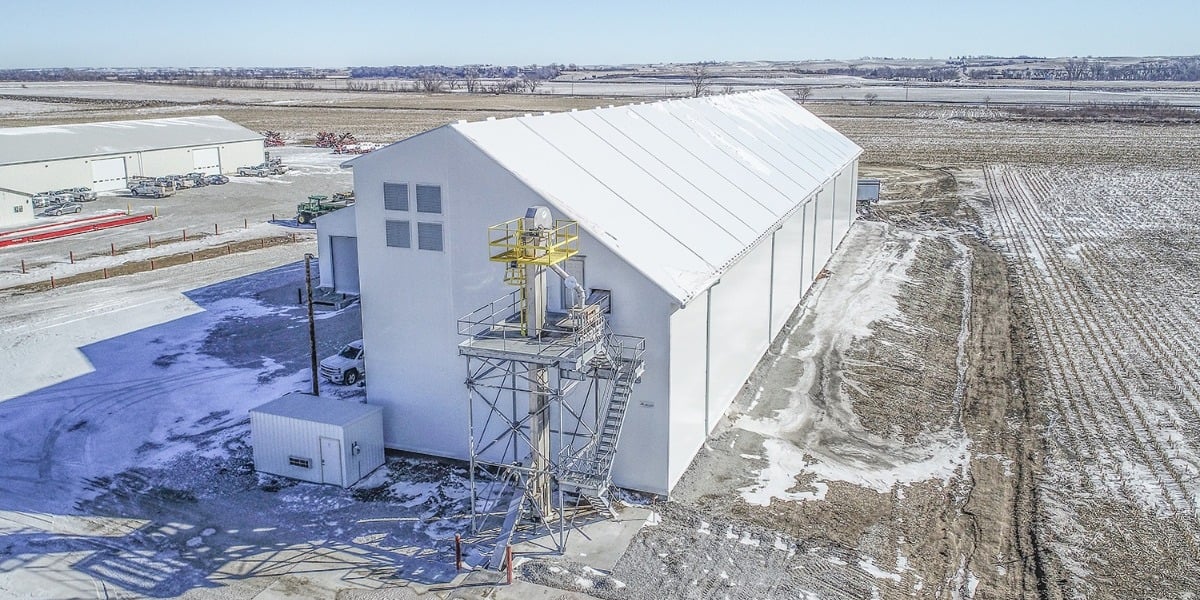 Storing and distributing bulk fertilizer requires a sharp eye on the bottom line. Fiscal responsibility means your fertilizer storage operation must combine efficiency and low cost.
Fertilizer bins are one way to handle large-scale storage. But when it comes to saving money in fertilizer storage, tension fabric buildings outperform bins in numerous ways.
Dry fertilizer storage bins keep fertilizer, grain, or feed in vertical containers. While these containers do keep fertilizer out of the elements, they do not have the flexibility for future growth or running multiple operations.
Fertilizer storage bins require one bin for each product. If supply chain issues, customer preferences or advances in technology mean you want to change your product offerings, bins do not allow you to adapt your business.

Saving Money During Construction: Freespan Fertilizer Storage Buildings
With a freespan storage building, your operation can store and blend multiple products, protect equipment, and keep employees and customers out of the elements.
The type of structure you choose matters when investing in a bulk commodity storage building. Every square foot of your building that is not available for storing fertilizer is wasted space, including the footprint of interior supports.
Legacy Building Solutions specializes in rigid steel frame fabric buildings, which have an unobstructed interior surface. The entire building is supported by rigid steel I-beams on the exterior edges of the building, eliminating the need for support columns.
Support columns not only take up valuable storage space but also create hazards for forklifts, loaders, and other equipment working in the building. The Legacy design eliminates the possibility of lost time, injury, and damaged equipment that can be caused by interior support beams.
Freespan buildings like those built by Legacy typically use precast concrete bunker walls to create storage bins. Designing and constructing a building with precast concrete walls means that you have future flexibility to change the number or size of storage bins as your business's needs change.
Hanging loads can also be added to the building frame to keep the building floor unobstructed. Cranes, augers, conveyors, and catwalks are suspended from the building frame to keep your fertilizer storage business running at maximum efficiency.
Unlike many other fabric fertilizer storage buildings, Legacy structures feature a tapered I-beam sidewall frame. This creates more room for bulk fertilizer piles, bucket trucks, and equipment operating inside the structure.
Getting the most of every square foot of available space results in serious cost savings throughout the lifespan of your building. But that's not the only way that a Legacy building can mean savings for your operation.


Saving Money with Efficiency: Custom Designed Fertilizer Storage Buildings

Your business is more than a pile of fertilizer, and your building should reflect that.
Legacy Building Solutions works with each customer to customize the building to suit your needs. This means room for basic storage needs like loading, mixing and bagging, as well as other operations like retail, equipment maintenance, or office space.
Many of Legacy's fertilizer building frames are designed with lean-tos.
How are lean-tos used in fertilizer storage?
Lean-tos with overhead doors on either end are used for loading. Trucks can safely drive through without interfering with the operations in the main building.

Lean-tos can be insulated, heated and cooled separately from the main building, creating a comfortable location for retail operations or offices.

A lean-to with trough creates space for hoppers and loading equipment outside the main square footage.
Combining one or more lean-tos with hanging loads optimizes your building for performance. This isn't a building that you are adapting for your business. This is a building made for your business.
When you consider the overall cost of running your business, your main infrastructure needs, like bulk fertilizer storage, is a significant part of your total operating cost. Make sure your bulk storage building works as hard as you do.


Saving Money During Operation: Natural Light and Ventilation in Fertilizer Storage
Another way for bulk fertilizer storage buildings to save money is in operating costs. Recurring monthly expenses related to lighting and ventilation are greatly reduced with a custom fabric building on a rigid steel frame.
ExxoTec™ PVC fabric allows natural light to shine through an uninsulated structure's ceiling and walls. On sunny days, you may be able to operate without any artificial lighting at all–saving on monthly energy costs, as well as the time and hassle of replacing bulbs in an industrial building.
There will always be dark corners no matter how much lighting you add to a steel building. With sunlight coming in through every inch of the fabric wall and roof, there are no dark spots that can hide rust, spoiled product, or debris.
Ventilation is necessary to keep fertilizer dry and prevent clumping. A passive ventilation system that creates natural air intake and exhaust prevents moisture build-up inside the structure and supplies a constant stream of cool, fresh air to the stored product.
Air intake through the building eaves keeps a constant flow of dry air flowing in along the length of the building. Unlike active ventilation systems that rely on fans constantly running, a passive system does not have dead air spots in the center of the building–and it eliminates the expense and hassle of a large fan.
Eave air intake allows fresh air in, while ridgeline vents exhaust fresh air out the roof of the building. This system moves humidity to the top of the structure, away from the stored bulk fertilizer.


Saving Money in the Long Term: Longevity in Fertilizer Storage Structures
As a corrosive material, fertilizer is known for causing storage bins and buildings to deteriorate over time. Rust and other damage can shorten the structure's lifespan, resulting in significant financial investment and lost time during construction.
Unlike steel, structural fabric is unable to corrode. Constant exposure to fertilizer and agricultural salts and moisture will not cause the fabric to degrade over time. This is one reason that fabric buildings have a long history in the fertilizer storage space.
The rigid steel frame of a Legacy building is also designed to be stronger and less susceptible to corrosion. Solid steel I-beams do not have hollow centers or other areas where corrosive materials can cause rust to form from the inside out.
But a building designed to fight corrosion needs more than just solid steel. Legacy's process is completely designed to protect the frame by offering protective epoxy paint options for our customers. One option we offer is our Epoxxishield™ Cor Elite.
Proper protection starts with proper surface prep. The steel is garnet blasted to remove impurities and create a rough surface, perfect for allowing coatings to adhere.

Once the steel is treated to commercial blast SP6 grade, painters apply 3 mils of zinc-rich epoxy primer.

After the primer coat is dry, 5-mils of epoxy coating are applied to the steel. The epoxy coating and the primer are evenly applied along the entire length of the steel, without cracks or imperfections in the coating.

Finally, a second 5-mils of epoxy is applied giving the steel excellent protection against corrosion.
What does this process mean? The EpoxxiShield creates a barrier coating between the steel frame and the corrosive elements, which means your fertilizer storage building is low maintenance and will last longer. In fact, we're so confident in this process that we offer a 15-year warranty on the frame and finish.
Without corrosion starting inside the building, the time lost, and financial commitment caused by building maintenance and repair is greatly reduced.


Fabric Structures Outperform Bulk Storage Bins
When it comes to storing fertilizer, bulk storage bins simply can't match the cost-effectiveness and longevity of Legacy fabric structures.
Freespan design means every square foot of your building is used for maximum efficiency.

Custom design allows you to do more with your building.

Natural light and ventilation save on operating costs.

A corrosion-resistant environment helps your building last longer.
How can you get the most from your fertilizer storage building? All the information you need is in our Best Practices for Bulk Storage Buildings ebook. Download it today.