Need a Building? Time to Consider Fabric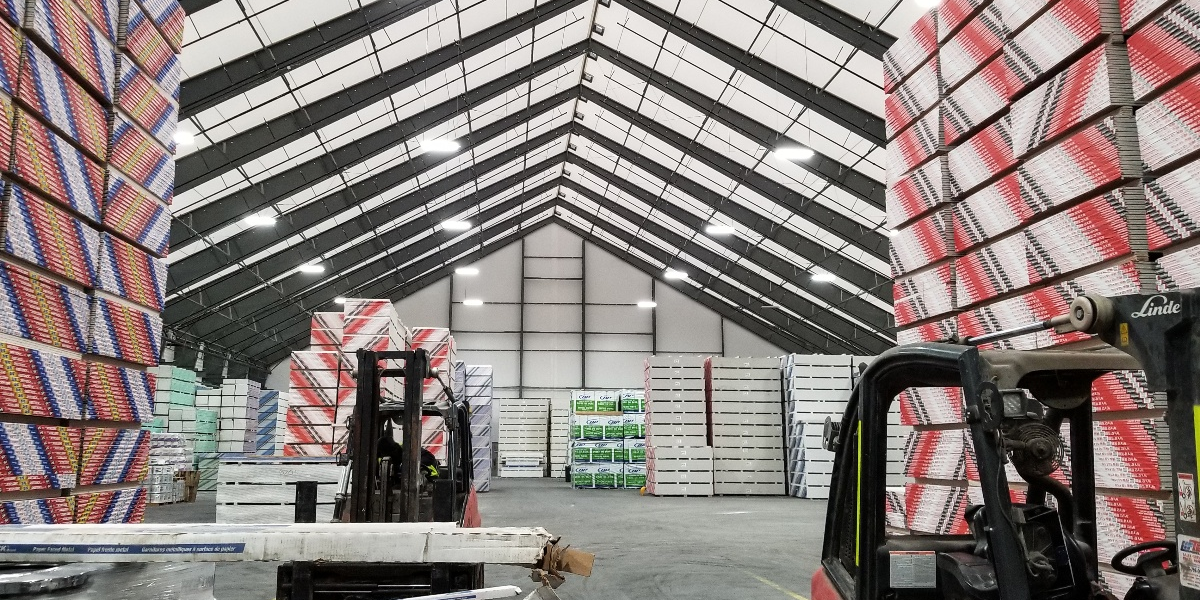 Has your contractor told you, "if you want to do major renovations on your house, better wait a year." If you want to build new, there are similar or longer wait times.
The availability of traditional building materials has gone through the roof. Likewise, finding contractors and crews to do the construction work has become difficult at best.
If you need a building this year, you don't have to wait. You just need to think differently.
It's time to consider, or reconsider, a fabric structure to meet your building needs. Legacy's tension fabric structures are used in so many situations—from equestrian riding arenas to bulk storage to sports facilities to aircraft hangars—that we are confident we can meet your organization's needs.
Fabric versus traditional materials
Industrial fabrics offer a number of benefits over traditional materials such as wood, steel and bricks. Fabric, when tensioned correctly, can last for decades without rusting, chipping or weathering. Legacy's proprietary fabric, Exxotec™, is just as resistant as traditional materials to weather such as wind, rain and snow.
Due to our solid steel frames, the buildings can be engineered to meet the seismic codes of the area. Our unique approach to tension fabric buildings creates structures that look just like traditional buildings—straight walls, high peaks and a beautiful interior and exterior.
When comparing fabric to metal structures, fabric offers distinct advantages. First, fabric doesn't rust. Legacy does use steel in our frames, but we have a propriety suite of epoxy coatings—Epoxxishield™—that are designed to outperform hot-dipped galvanizing in corrosion protection.
In addition, metal clad buildings are installed using thousands of Tek screws to attach walls and roof panels. Each screw creates a hole that can leak heat or cold air throughout the year. Our fabric panels are airtight and make an interior that's warmer in the winter and cooler in the summer.
Our fabric is also thermally nonconductive, so it transfers less heat or cold from the outside into the interior. If you've ever been in a metal building on a hot summer day, you know what we mean.
Single Source eliminates obstacles
Legacy does as much of its work in-house, from design to steel beam fabrication to fabric panel creation to epoxy coatings to installation/construction. This isn't in response to recent supply chain interruptions; it's how we have always operated. In order to keep innovating and incorporating quality into our products, we decided that doing the work ourselves was the best choice.
That way our engineering team and design team can communicate with our steel and fabric teams. By controlling almost all aspects of the project, we can make sure timelines are followed and operations aren't interrupted by unexpected vendor or subcontractors' missteps. There is no passing the buck.
By managing the project ourselves, communication is constantly flowing from our team to you. Our product and design consultants make sure you are always in the loop.
Self Performing Crews
We do things different at Legacy, including our installs. We use our own crews because they are:
Trained in our installation processes
Trained in our strict safety protocols
Experienced with how everything fits together
Committed to quality and getting the job done right
In terms of the current shortages of workers, having our own crews makes it that much easier to follow the schedule we give you. Our crews show up.
Our crews take pride in their work and make sure that the job is completed on time and to your satisfaction. We also have an experienced team of project managers that oversee the entire process and ensure that the project is completed to the highest standards. Your input is always taken into account and we strive to provide the best customer service.
Fabric buildings can open new doors to your current and future needs. You shouldn't have to wait any longer to put your operational strategies into action. Contact Legacy and let us discuss what we can do for you this year and well into the next decade.