4 Advantages of Fabric Buildings for Public Works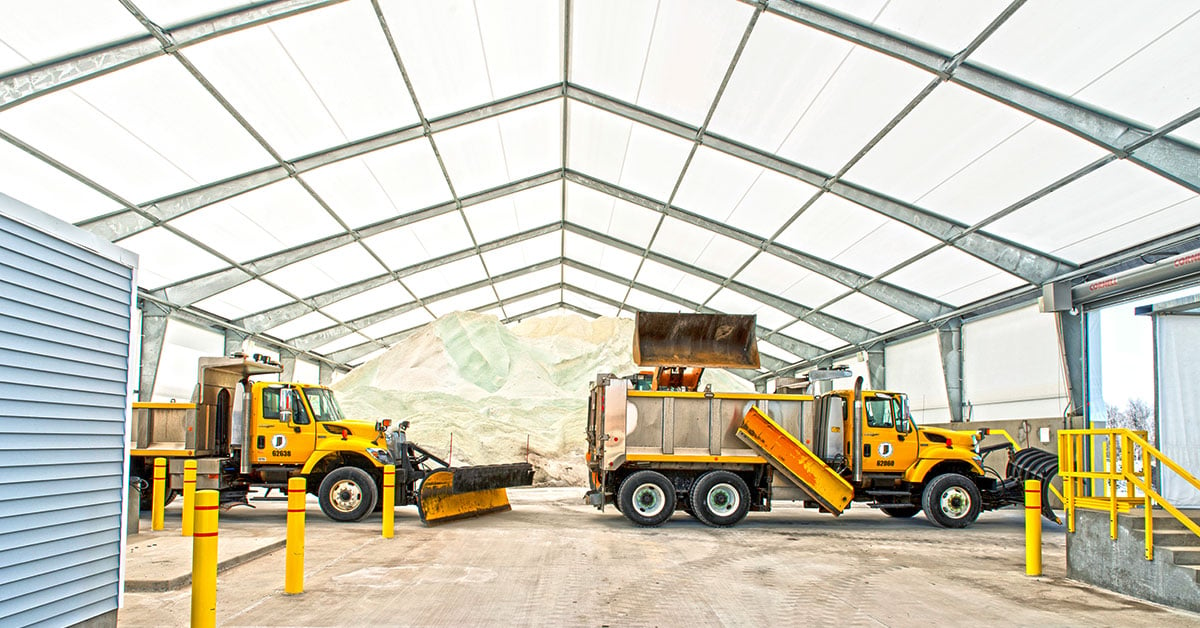 Caring for critical infrastructures such as roads and bridges, equipment, and other resources is a big task for those working in local, state, and national government agencies. Entrusted with taxpayer funds, these leaders must find efficient ways to ensure public assets are maintained and used effectively. Despite this, public works departments across the country face the challenge of doing more with less.
One way to maximize resources is through tensioned fabric structures.
What Are Frame-Supported Tensioned Fabric Structures?
A fabric building, or tension fabric building, is a structure made from industrial-strength fabric cladding supported by steel frames. These innovative buildings differ from traditional concrete, brick, and wood buildings built from the ground up. Instead, a steel skeleton or web frame is assembled and rooted in a solid foundation, and the fabric membrane is then tensioned around the frame.
Advantages of Fabric Buildings for Public Works
Fabric buildings have many advantages, so when it comes to their use in public works operations, it should come as no surprise the benefits are plentiful. Let's look at some of the biggest advantages of fabric buildings for public works.
Year-Round Availability
Tension fabric structures are made with a thermally non-conductive fabric material that doesn't transfer heat or cold like steel or concrete. This allows the inside of a fabric building to be cooler in the summer and warmer in the winter. That said, if you'd like to insulate your structure, you can do so and install HVAC systems to allow for air-conditioned or heated environments.
Fabric structures offer virtually all the benefits of metal buildings regarding durability and longevity. The two components of a Legacy fabric building include rigid steel frames and our proprietary ExxoTec™ fabric, which has a minimum lifespan of 20 years. These materials are incredibly weather resistant and can withstand the harshest conditions, such as wind, storms, snow, and ice.
Quicker Build Times
Thanks to their limited parts and components, the build time for fabric structures is significantly faster than traditional brick-and-mortar buildings, regardless of size. End-to-end manufacturing processes also provide the ability to design, build, and install an entire structure in a third of the time while eliminating delays from using multiple vendors and ensuring quality control standards.
Custom-Built
Why use a one-size-fits-all approach to building when you can design a custom structure to fit your needs? Legacy's design process allows us to tailor each building for our clients without adding cost or time. Once the initial drawings are finalized, the project moves to our steel and fabric manufacturing plants, and the whole building is loaded on trucks before being shipped to your site.
We consider every detail of the structure's purpose, daily use, environmental factors, and building code requirements. Our design criteria ensure your fabric structure is optimized to maximize efficiency and your return on investment.
Cost-Effective
The return on investment for a fabric building pays off in time, overall value, and money saved. Tension fabric structures are cost-effective for a variety of reasons:
Rapid construction through a single vendor

Lower upfront building costs

Reduced lifecycle maintenance and repair costs

Replacing cladding is a fraction of the cost of metal or shingle replacement

Energy efficiency
10 Examples of Fabric Buildings
Landfills and Water Treatment Facilities
Basin Electric Power Cooperative Bottom Ash Dewatering Facility
Industry: Oil Gas & Energy, State & Municipal, Waste & Recycling
Size: 52,800 sq ft
Location: Stanton, ND
Year: 2015
Chillicothe Correctional Institution WWT & Dewatering Structure
Industry: State & Municipal, Waste & Recycling
Size: 6,550 sq ft
Location: Chillicothe, OH
Year: 2015
Max Rhoads Wastewater Settling Tank Cover
Industry: State & Municipal, Waste & Recycling
Size: 15,232 sq ft
Location: Owensboro, KY
Year: 2017
SMM Scrap Metal Recycling
Industry: State & Municipal, Waste & Recycling
Size: 21,975 sq ft
Location: Jersey City, NJ
Year: 2018
Salt and Commodity Storage
Bethel Park Reserve Road Salt Storage
Industry: State & Municipal
Size: 11,700 sq ft
Location: Bethel Park, PA
Year: 2017
Highland WRF Covered Sludge Storage
Industry: State & Municipal, Waste & Recycling
Size: 20,400 sq ft
Location: Highland, IL
Year: 2018

Lee County Ash Monofill and Compost Site
Industry: State & Municipal, Waste & Recycling
Size: 19,400 sq ft
Location: Felda, FL
Year: 2014
Montgomery County Salt
Industry: Bulk Commodity, State & Municipal
Size: 18,400 sq ft
Location: Gaithersburg, MD
Year: 2019

Public Works Road Salt Storage Building
Industry: State & Municipal
Size: 7,200 sq ft
Location: Watford City, ND
Year: 2019

Equipment and Machinery Storage
City of Davenport Bus Barn
Industry: Automotive, State & Municipal
Size: 21,000 sq ft
Location: Davenport, IA
Year: 2014

Build With Legacy

Legacy Building Solutions designs, manufactures, and installs custom-engineered fabric buildings for every industry, from manufacturing and sports to transportation and public works. We can create the ideal facility to meet your requirements, eliminate excess square footage, increase energy efficiency, and result in a faster return on your investment.
Our engineering team is among the most experienced in the industry and licensed in multiple states and provinces. We can provide stamped drawings for any location in the U.S. and abroad while working with government entities and private partners through P3 partnerships.
Click the button below to get a free quote on a fabric structure for your operation.