Getting the Most ROI on Bulk Commodity Storage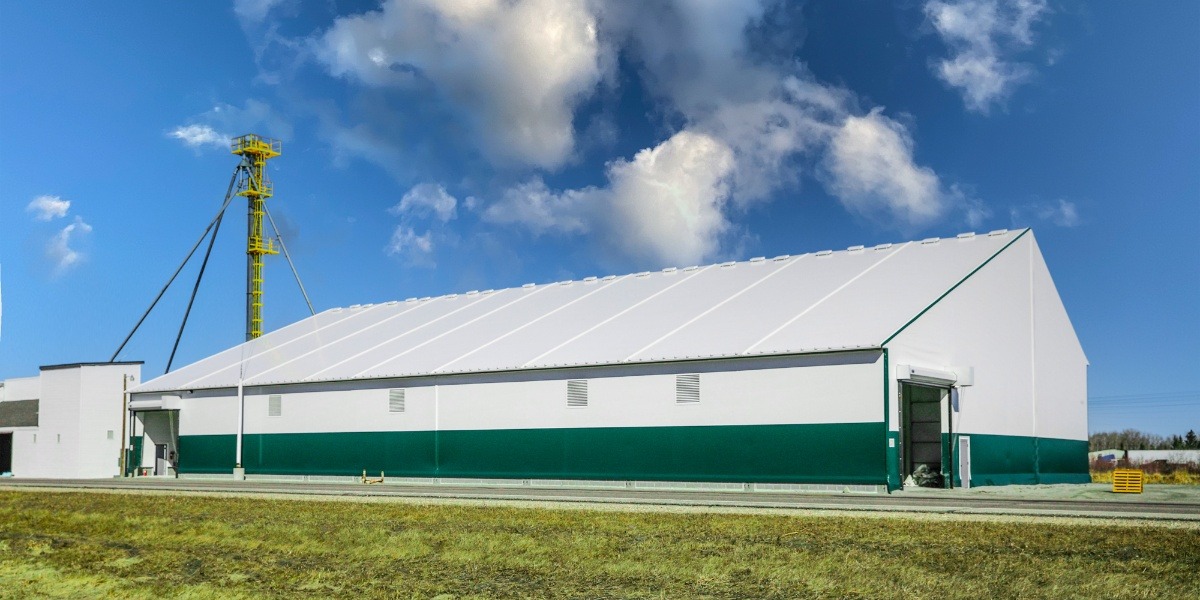 Fabric is no stranger to the bulk commodity industry. Fabric has been established as a cost-effective option for corrosive bulk commodities such as frac sand, fertilizer, and salt. However, what if we told you that there are more perks to be had with tension fabric structures, and you could have it all?  
These features include but are not limited to a vertically integrated design and manufacturing process, rapid installation, and clear span space. With award-winning fabric and innovative corrosion protection, Legacy Building Solutions will boost your return on investment for bulk commodity storage operations.
Multifaceted Manufacturer
Legacy Building Solutions (Legacy) is a multi-faceted manufacturer, so the need for subcontractors is greatly reduced. The process starts with our Building and Project Design Consultants. Then a team of estimators, drafters, and engineers draw up the specifications of your building project. Upon approval, your building starts taking shape at our Minnesota manufacturing headquarters.  
The fabric and steel components are manufactured on-site, painted with our exclusive epoxy coating, EpoxxiShield™. This is a special protective barrier formulated to better fight off corrosion rather than just delay the inevitable. Then, the materials are all shipped to the location. Legacy's installation teams travel to the building site and make the magic happen. These in-house teams help reduce delays, making communication easier - reducing construction delays. 
Rapid Installation 
Fabric takes about a third of the time to install than other building cladding types, such as wood or metal. For an industry that has such a national impact and deadlines to meet, this is a major perk to bulk commodities. The faster your building gets put up, the sooner you can start seeing returns on that investment. 
Clear Span Space 
Due to Legacy's solid steel I-beam frames, and state-of-the-art software, floor space can be maximized. This, in turn, creates an open working environment. With large equipment, moving free of interior columns is extremely helpful. "The ability to move a loader around in the building without obstruction means faster loading, resulting in less labor.  So, you end up with more product being moved," reports Building and Project Design Consultant Paul Smith. "And shipped at a lesser cost to move it."  
Legacy utilizes software to model 3D commodity piles, so you know exactly the space you have to work with, maximizing shed capacity. All of these are beneficial to keeping operations efficient and increasing ROI.
The Power of ExxoTec™ Fabric
Legacy's buildings are virtually maintenance-free, which saves money and time annually, thus increasing ROI. ExxoTec™ fabric has high tensile strength and has obtained Florida Product Approval. This showcases our fabric as durable and reliable in various climates and environments. In extreme conditions, ExxoTec™ proved stronger when going up against metal and wood, and these other types of buildings require more maintenance regardless of weather damage. 
Natural lighting in a tension fabric structure can reduce the amount you spend on electricity for lighting. How much you may ask? While only your accounting department can say for sure, the average cost of lighting a warehouse is approximately $1.00 per square foot per year (Landsdale Warehouse Co.). In a typical warehouse, lighting is 34% of electricity costs (U.S. Energy Administration).
Our fabric structures use a tough but translucent fabric material called Exxotec™ and it allows up to 12% natural light through the roof and walls, in an uninsulated building. For some of our clients, this natural light lets them skip electrical lighting altogether, increasing their bottom line.
EpoxxiShield™ Frame Finishes & Longevity 
Hot-dip galvanizing (HDG) has been the industry standard for many years and is still considered an option for corrosion protection. However, Legacy has tested an epoxy coating, EpoxxiShield™, against HDG, which yielded results in favor of the epoxy. Over the course of a 2000-hour salt spray test, it was clear that steel protected by HDG sustained more damage than that steel protected with EpoxxiShield™. 
How does corrosion protection contribute to ROI? In this case, it is just another aspect of Legacy's operation that demonstrates its longevity. A building that will perform, even in the harshest environments, is worth upfront costs if it adds years to the life of the building.  
These attributes are a testament to the resilience of ExxoTec™, the endurance of EpoxxiShield™, and Legacy being a leader in the field of fabric structures. 
Start The Process
Legacy goes above and beyond to walk you through the process and deliver a fantastic structure. We are here for any questions and will help you throughout the process; click below to discuss your building needs with a specialist.