Ten Lessons in Ten Years: A Decade in Review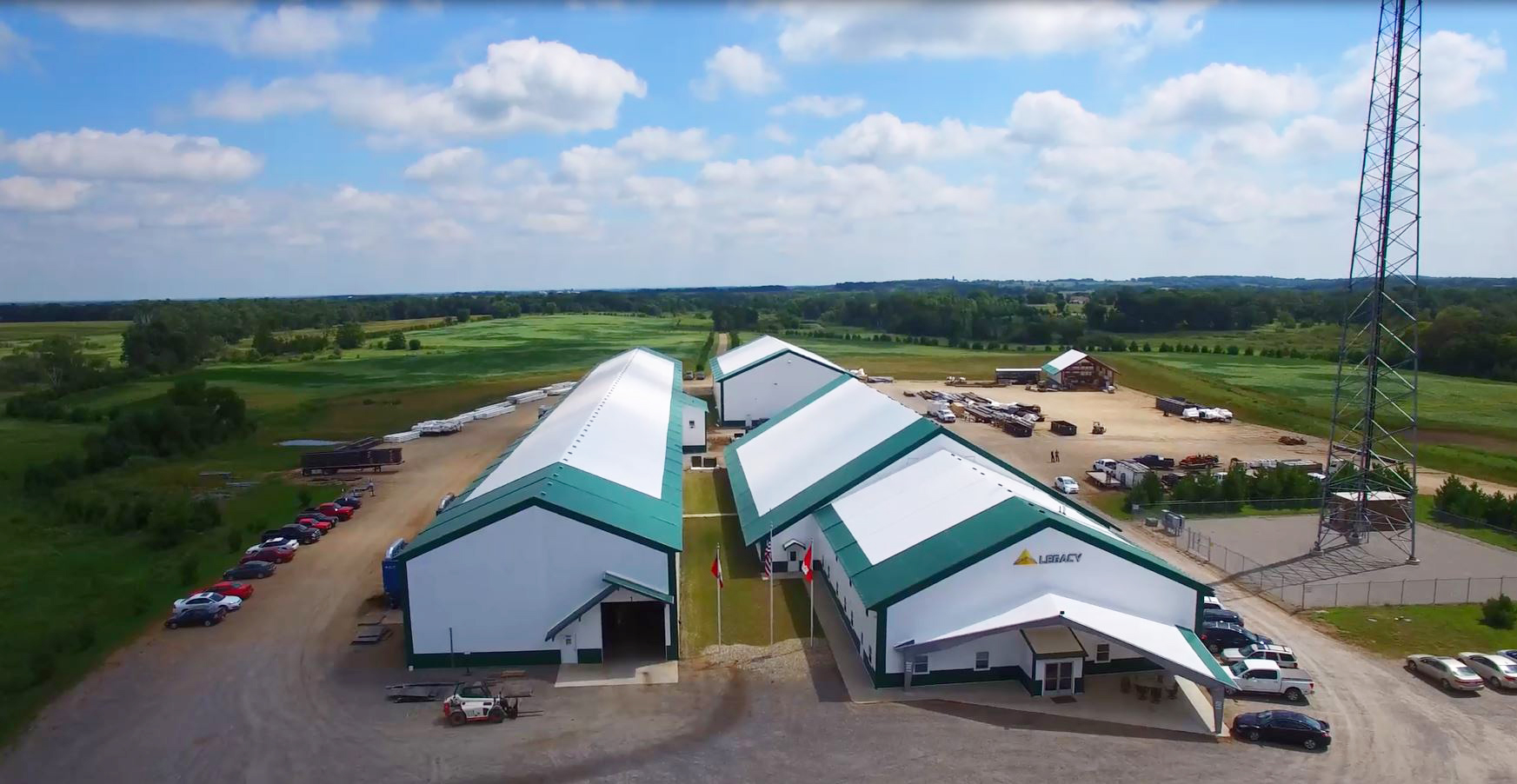 Ten years ago, Legacy started its business with the expressed purpose of revolutionizing the fabric building industry and changing the way fabric structures were designed, manufactured, and installed. Ten years and hundreds of buildings later, we took a look in the rearview mirror to see if we:
Revolutionized the industry as we planned
Met our own goals about quality, innovation, safety, and client satisfaction
This exercise prompted us to review our business holistically and take the time to understand each year's innovation and lessons that accompanied each initiative. Below is an illustration of each milestone and what it meant for our team, our purpose, and our growth.
Learn What You're Not
This helps you laser-focus on what you are so you can build and iterate off that one single thing for years and years to come.
Ten Years in Tension Fabric Video Tour of Our Favorite Buildings
We design, manufacture, and install the tension fabric structure.
Sometimes it's easier to say what it isn't.
It isn't a tent
It isn't a bubble, meaning an air-supported dome
It isn't a mono cover
It isn't a web truss
It isn't a single-tube structure
It isn't a tensile fabric structure
Always Build Something Better
Legacy began operations in 2010, but the founders and many of the original employees had a great deal of experience installing fabric buildings—for other companies. The journey began with the notion that fabric buildings could be better, be different, and be something that would exceed our clients expectations. The look, the feel, and the structure of fabric buildings were due for a makeover and Legacy was eager to reimagine what the future of the industry could be.
Ben Fox, the founder, wanted to make a better fabric building based on what he had learned during his years of installing other buildings. In particular, he wanted to address the quality and long term durability of a fabric structure. He also wanted to design a building that looked like a traditional building with clean lines, a crisp exterior, an amazing interior, and an overall beautiful feel. Some changes the company made right away and some of the advances happened over time after working with the materials.
And just like that, Legacy Building Solutions was created. Here's what we've learned and are proud to continue to build off of.
1. Steel to Withstand
We always start with steel, so this gets the number one billing in our innovation list.
One of the changes we made to the world of fabric structures is designing a frame of solid steel tapered I-beams.
There's a lot to unpack there. First, solid steel meant two things to us: strength and engineering certainty. With solid steel, as opposed to hollow tubes or web trusses, we could engineer a structure that could withstand wind, snow, and seismic conditions all over the world. We have a building in the Andes Mountains at 9,000 feet altitude, a sports complex on the frozen fields of northern Alberta, and a hangar in Guam designed to survive winds up to 195 miles per hour. We are also approved to build in the hurricane alley of Florida.
Solid steel also opened up opportunities for us, as designers, and to our clients, as building owners.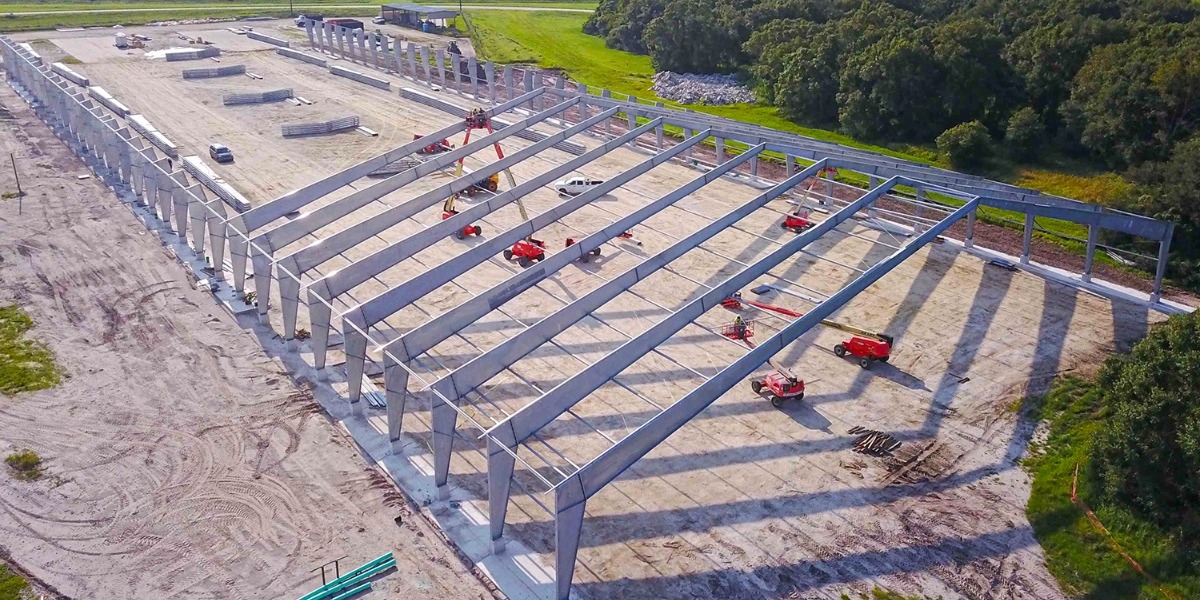 Engineering Certainty
Engineering certainty meant a couple of things.
First, it meant that the tension fabric structures were aligned with the engineering standards of the rest of the world—meaning the world of traditional buildings. Our fabric structures meet or exceed the local building codes of the states as well as international building codes. Steel and engineering certainty allowed us to meet almost any standard.
Secondly, we designed our buildings with the same software used throughout the steel building industry. That standard meant that almost any engineer could pick up our drawings and blueprints and instantly understand what we were doing. For example, if a local regulator wanted to take our designs to his county engineer to check them out, that engineer would be able to read the blueprint without needing any translation. To us, good engineering is not proprietary, it's universal.
See: Steel Story—The ADM Ottawa vs. Derecho
Our first building using a solid steel frame was for Archers Daniels Midland agricultural storage in Ottawa, Illinois. It was a pretty standard job, and nothing really remarkable to say about it…until last summer.
Last summer that area of Illinois and Iowa was hit by a derecho, a large storm consisting of straight-line winds in a 250-mile wide swath. This storm has 70-75 mile-per-hour winds, gusting to 100 miles per hour, and 15 tornadoes. Some describe a derecho as an inland hurricane.
Our first steel beam building, ADM Ottawa, came through the storm without a scratch, as well as all the other Legacy buildings in that storm.
Now that is engineering certainty, proven.
2. The Weight of Warranty
In 2016, Legacy switched its fabric cladding to ExxoTec™. Before that, the industry-standard was a polyethylene fabric. It was okay. It did the job. Our research into better fabrics and better ways to do things revealed that PVC fabrics showed some promise.
PVC fabric was tougher and it withstood UV rays better. We settled on a proprietary fabric designed for Legacy that was PVC scrim, covered with PVC film on both sides followed by a layer of lacquer on both sides.
ExxoTec™ is tough. It's tough enough to allow us to give our cladding a 25-year warranty for our 28-ounce fabric. How do we know just how tough it is?
Well, we tested it.
ExxoTec™-Strong
There are three things to note about the demonstration in this video.
First, this wasn't just a test of the fabric; it was a test of our entire building system. The panel he is driving on is identical to one of our roof panels, right down to the steel frames, the keder rails, the half inch bolts, and the tensioning.
The second thing is the fabric panel itself. We weld our fabric panels together in-house, using special tools that bond our seams together. The seams are just as strong as the fabric itself. The panel being driven over is one of our welded panels. If you look closely, you can see the seam.
Finally, the fabric panel itself was sagging quite a bit when the skid loader was removed. With that much stress, we thought the sag would be permanent. But Legacy's ExxoTec™ fabric returned to its original shape the next day.
This is a beautiful equestrian building that's actually a hybrid, with steel walls and an ExxoTec™ roof. It's used for rodeos, archery, sports, and fairground events year-round. Natural light and superior acoustics create a more natural environment and reduce shadows and sounds that can spook the horses. It's a 5,000-square-foot structure and engineered for five pounds per square foot snow load, 120 miles per hour wind speed, and seismic zone D.
3. Stretched to the Limit
Legacy uses proprietary materials in our buildings, but we also have a patented attachment system.
Our team realized that by using ExxoTec™, the physical properties of the fabric itself would allow our installers a better option for stretching the cladding on our frames. This stretching is called tensioning and it's another thing that makes our structures different.
Using Legacy's patented attachment system, each fabric panel—typically 20 feet wide—is secured to the frame using a keder rail that slides horizontally on the top flange of the frame, eliminating the need to detach or flex frames during installation.
Instead of tek screws (which create possible failure points in the aluminum keder extrusion), we use bolts to attach rail to frame.

Wrinkle-Free & Long-Lasting
The system also uses horizontal mechanical tension to stretch the fabric to the recommended level, keeping it taut, and preventing friction for the life of the building. There is regular support and tension both vertically and horizontally, which is critical to ensure a wrinkle‐free finish and a long fabric life.
There is also greater vertical or "up and over" tensioning because the fabric is tensioned in a straight line, not around any curves or radii.
What this means for our clients is that Legacy buildings do not require fabric retensioning after installation. Other fabric buildings typically require retensioning of their fabric, not just once, but multiple times over the life of the building. Ours do not. In fact, when we talk about our structures being virtually maintenance free, our patented tensioning system is one reason for that.
4. Corrosive Environments
Some of Legacy's earliest buildings involved salt storage, mining chemical storage, and fertilizer storage.
We took an early interest in corrosion because many of our clients had very corrosive environments due to the materials they stored. Our steel is very important to our structures, so protecting it became a focus for our company.
For many years, hot-dipped galvanizing (HDG) was the answer. That method slowed down the corrosion significantly, but it didn't technically interrupt the corrosion. That's one reason we began to look to expand our product offering to include epoxy coatings.
We have clients who require the best corrosion protection. In the case of the mining sector, we are working on a project in which copper concentrate will be stored. That actually reacts chemically with galvanized coatings, so epoxy was the solution that precisely fit their needs.
We committed to providing epoxy coated steel to our clients for a couple of reasons:
Better corrosion protection than HDG
Easier to repair if the surface is damaged
In 2019 we added a new manufacturing plant to our headquarters, a paint shop that applies high performance epoxy coatings for the steel beams and the steel supporting pieces we use in our tension fabric structures. This began our work with different epoxy products to create the best coatings for different environments—slightly corrosive to highly corrosive.
Once we got our epoxy coatings where we wanted them, we tested them. An aggressive 2,000-hour salt fog test was conducted on samples of our steel as well as HDG steel. The report is still in progress, but preliminary results showed the epoxy coatings outperformed galvanization. We offer a 15-year warranty on our top-of-the line epoxy coating.

5. Our Own Installers
Before Legacy was launched in 2010, many of our associates worked installing the buildings of other companies. We have a long tradition in fabric building installation, which led us to our own tensioning system mentioned in lesson number three. That long tradition also convinced us that using our own crews to install our structures was vital to the success of the company.
Legacy does things differently. To that, we needed experienced, well-trained installation teams implementing our processes. It wasn't something we could farm out to sub-contractors or local construction teams. Getting the installation right was an absolute; the processes we built into our structures required the best teams possible, period.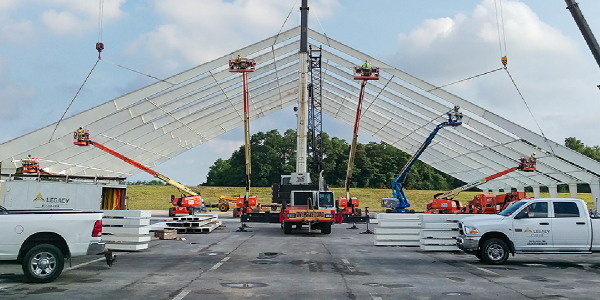 Road Warriors
Our installation crews are six-person teams that travel the North American continent—and the world—installing our buildings.
They are on the road for most of the year. That kind of lifestyle is tough, so finding the right people for the job is a challenge. On the plus side, we can recruit them from anywhere in the country, not just near our Minnesota headquarters.
When an installation team shows up, they are ready to work, often working long hours and during weekends. They are also trained in our own safety requirements as well as the safety requirements of our clients. We often get comments from our clients about their work ethic, their reliability, and their attention to detail.
One of the comments we get, again and again, is how fast our crews can put up a building. Often our crews can install a building for a client in a matter of days or weeks, not months or years. They can do that because we, as an organization, have streamlined every step of the building process. We do all of the design, the drawings, the contracts, as well as the manufacturing of both the solid steel frames and the fabric cladding.
End-to-End
Because we do almost everything in-house at Legacy, we control the logistics. That means those in the steel manufacturing plant will make sure the right parts are on the truck and, more importantly, that the steel is stacked in the right order. You can imagine how much faster a crew can proceed on a building when everything—steel and fabric cladding—comes off the trucks in the proper order. That synergy between our manufacturing units and our installation crews makes a huge difference on the construction site.
6. Custom to the Core
Early on, Legacy decided building off-the-shelf, prefabricated fabric structures was not a good fit for the innovations we were trying to implement.
Instead we decided to custom design each building to the needs of the client. No two clients are the same, and no two projects are the same. The three things that people assume about customization are:
It's expensive
It's time-consuming
The quality is compromised
We knew our challenge as a company was to address the issues of cost, time, and quality when it came to our customized structures. Some construction companies use customization as an excuse to charge a lot and tack on add-ons as the project goes forward.
We decided to combat that with transparent up-front design and clear communication. For example, our design team will give you an exact price before you sign any contracts. Since we use our own crews to construct a building, our clients don't get blindsided by costs from "subcontractors." Likewise, with Legacy doing the fabrication of steel and fabric building components, we can control costs.
Another strength of a fabric structure, even a customized one, is they are typically easier on your budget than traditional materials like wood or brick.
Custom's Connotation
Another fear is, if you choose a customized building, it will take forever to complete construction. We covered how our installation crews are able to finish a project so quickly. In the same way, Legacy's design process allows us to tailor each building for our clients without adding cost or time to the process. Our designers get the drawings finalized, the project is handed off to our steel and fabric manufacturing plants, and the whole building is loaded on trucks before being shipped to your site. Because so much of what we do is handled in-house, there are fewer chances someone could drop the ball.
The quality of a customized structure is sometimes an issue because some builders will "cut corners". We have incorporated quality into every aspect of our production process, from our solid steel frames to our ExxoTec™ fabric to our patented fabric attachment system. We are constantly looking for, and finding, ways to make our buildings better.
We are proud of our ISO 9001 certification every year, as well as CSA A660 and achieving Florida Product Approval, one of the toughest product testing agencies in the construction industry.
One of the primary reasons Legacy Building Solutions was established was to introduce a new standard for quality in the building of tension fabric structures. We saw improvements that could be made to fabric buildings, and we made them. Even though every building we create is different, we will not compromise on the fundamental components that are part of every structure. That's why our clients trust that the custom structure they order will meet or exceed their expectations for quality materials, quality engineering, and quality construction.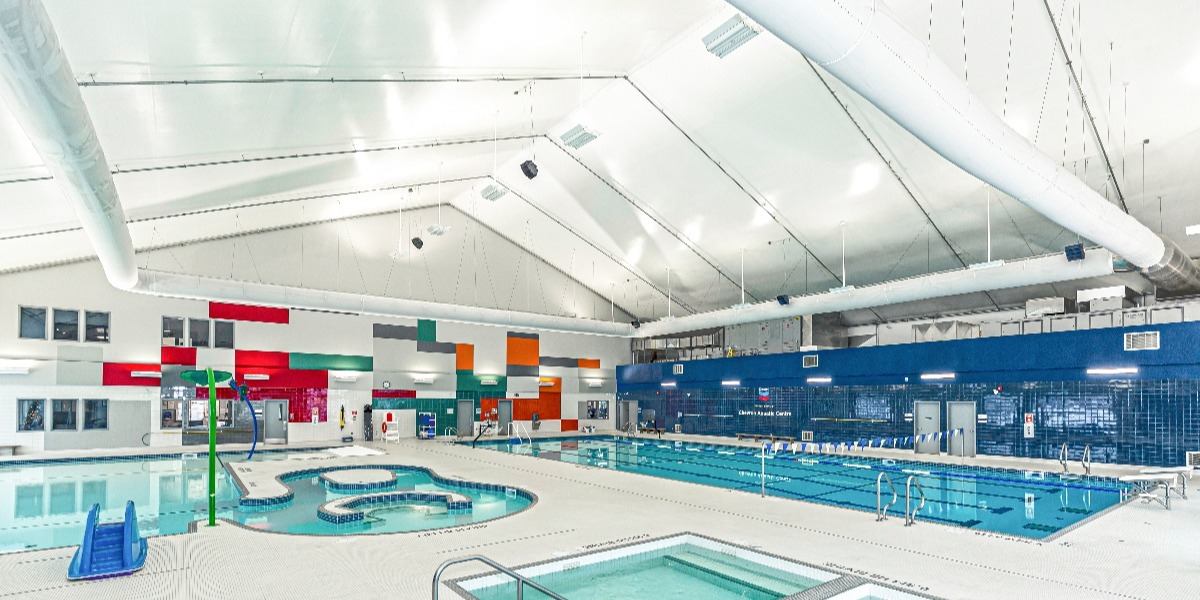 See: Custom Story—Fox Creek Sports Multiplex, Fox Creek, Alberta, CAN
Fox Creek Sports Multiplex is one of our biggest, most complex projects. It challenged our customization processes at every level. This multiplex is one large building, divided into three sections. It contains:
a full hockey arena
a complete aquatic center with a pool
the administration and community center
a full gymnasium
In addition, it includes a field house in a separate building attached by an enclosed walkway. In terms of square footage, this thing is enormous. In terms of complexity, it has everything you can imagine: mezzanines, second floors, walking tracks, dressing rooms, a restaurant, offices, a daycare center and community meeting rooms. Even the indoor humidity—cold for the hockey rink and warm for the pool—presented challenges.
In terms of installation, our crews had to do it in two phases. First they put up the steel structure. Then the other construction companies had to install the pool. Months later, our crew came back to finish the job.
Typically, our exterior cladding is a solid color—white, blue, beige, grey, green. With our sports complexes, we are often asked to add design elements that enhance the exterior and tell visitors exactly what the building is about. With Fox Creek, our fabric plant had the opportunity to add some great accents and graphics. The fabric team enjoys a challenge from time to time, and Fox Creek let them stretch their creative wings.
7. That's Fab(rication)
Bringing all aspects of our tension fabric structures in-house has been part of our evolution.
We began with the fabric plant, welding our own fabric panels for walls, roofs, end walls, and liners. Then we began fabricating our own steel beams for the frames. Finally, in 2019 we built our paint shop where we apply our proprietary epoxy coatings.
Add to that our own installation teams, and you can see the complete chain of logistics that Legacy controls. There can still, of course, be speed bumps in the process such as weather and pandemics, but we have ironed out as much of the operational elements as possible so we can deliver what we promise to our clients.
Finally, having our own design and engineering team to get the ball rolling is vital to creating a complete project because in a few cases, the ability to turnaround a project quickly has made all the difference.
See: Fabrication Story—Southeast County Landfill Biosolids Composting Facility, Hillsborough County, FL
This project's success was a direct result of Legacy owning all the logistical pieces. We knew what we were capable of and we knew we could meet the challenge of a tight deadline. This structure was a very large covered building open to the air, and this project was using a new composting process that turned biosolids into usable compost very quickly. The process was proprietary and had only been used once before in the pilot project.
We partnered with TLC Diversified, a water treatment and management contractor to get this building installed. Original plans suggested the project be split into two buildings, but because of Legacy's use of solid steel frames, we could make the entire project into one building of 139,750 square feet. That's about three acres completely covered by our structure.
Per the county's requirement, the composting facility had to be done, start to finish, in six months. The use-it-or-lose-it approach to budgeting for public agencies sometimes makes for incredibly short timelines. Our combined teams collectively analyzed the necessary actions that needed to occur, and with communication and support from all parties involved, we decided the timeline could be hit.
In fact, not only could we meet that timeline, we were able to do better than that. Despite challenges the team faced like poor soils, more slope than anticipated, and an extra-rainy rainy season. We bettered our time as far as manufacturing and shipping, by at least a month.
And, the foundation was right on target, all 650 feet of it. Every anchor for the structure was precisely perfect.
8. Industry Standard
Legacy serves a lot of industries and sectors.
We began with bulk storage and agricultural storage and then branched out from there. We currently create structures for the following industries:
Agriculture Storage
Automotive
Aviation
Bulk Storage
Energy
Equestrian
Military
Mining
Municipal Agencies
Oil and Gas
Recycling
Salt Storage
Sports
Waste
Over the past 10 years, we've learned a lot about each industry by working with their clients.
For example, the equestrian industry taught us how important natural light is in the look and feel of a building. The bulk storage industry taught us that precast concrete walls are great for creating separate storage and mixing areas inside the building.
Our sports facilities taught us about the great acoustics inside a fabric building as opposed to a steel structure. Salt storage has continually challenged us to come up with corrosion protection. The military has taught us about working with a variety of contracting teams to get the project completed on spec and on time. Working with state agencies and municipalities has taught me, in particular, how to work creatively with complex contracts and complex financing.
9. Quality Over All Else
In 1979, Philip Crosby, an expert in the Total Quality Management movement wrote a book called "Quality is Free."
What he meant by that is when a company spends time or money to improve quality on the front end of their processes, it pays dividends so quickly you earn back your investment almost immediately.
That has been the Legacy approach to design, manufacturing, and installation. In fact, all aspects of our business are reviewed under the ISO 9001 certification process yearly. But it's more than that.
Seeing is Believing
Touring our headquarters is the best way to experience that. New employees are given a tour of the three plants: the steel plant, the fabric plant, and the paint shop. It's where you begin to see how many innovations have been developed over our 10 years.
Sometimes it's something small, like a fabric cutter making it easier to cut pieces without requiring employees to be bent over all day. Often, it's more substantial like an adapter for a forklift that allows our employees to easily move our fabric rolls—which weigh many tons—around the cutting room floor.
The new paint shop is a great example of quality driven by innovation. We developed many of the processes for our epoxy coatings from scratch. It's a huge space with a booth for blasting and a booth for coating, as well as plenty of space to stage and dry the beams.
Moving the steel through the epoxy process was the first design challenge when creating the building. Beau Penk, who has been with Legacy for years, helped us design the best system. The beams are staged in the entrance of the shop and then hoisted onto a single crane system that carries them through the booths and all the way to the drying floor at the end. There are three tracks they can hang from. That was one of the early design decisions they had to make: how many tracks to install so the pieces could move efficiently and still give the painters and blasters room to move between them when they entered the booth?
When we added epoxy, it allowed us to combine different coatings to get the most protection for the right situations.
Unlike paint, epoxy must be mixed carefully. Once the beams leave the blast chamber and enter the epoxy spray booth, speed and careful planning are vital. Epoxy, as you know, needs to be used fairly quickly once it is mixed.
Epoxy coatings, of course, demand more safety protocols. Inside the booth, our paint shop workers wear a full protection suit and a helmet that has its own air supply. The helmet, rather than being restrictive, is pretty comfortable, airy, and cool. The safety equipment protects them from both the abrasive qualities of the blasting and the fumes from the primer and epoxy.
In our 10 years, again and again, we have discovered that when we focus on the quality of our products—designs, steel, fabric, epoxy, and even our communications—it drives efficiency and innovation. Ultimately, the end product for our clients is a better, stronger, more attractive structure they will be happy with for decades.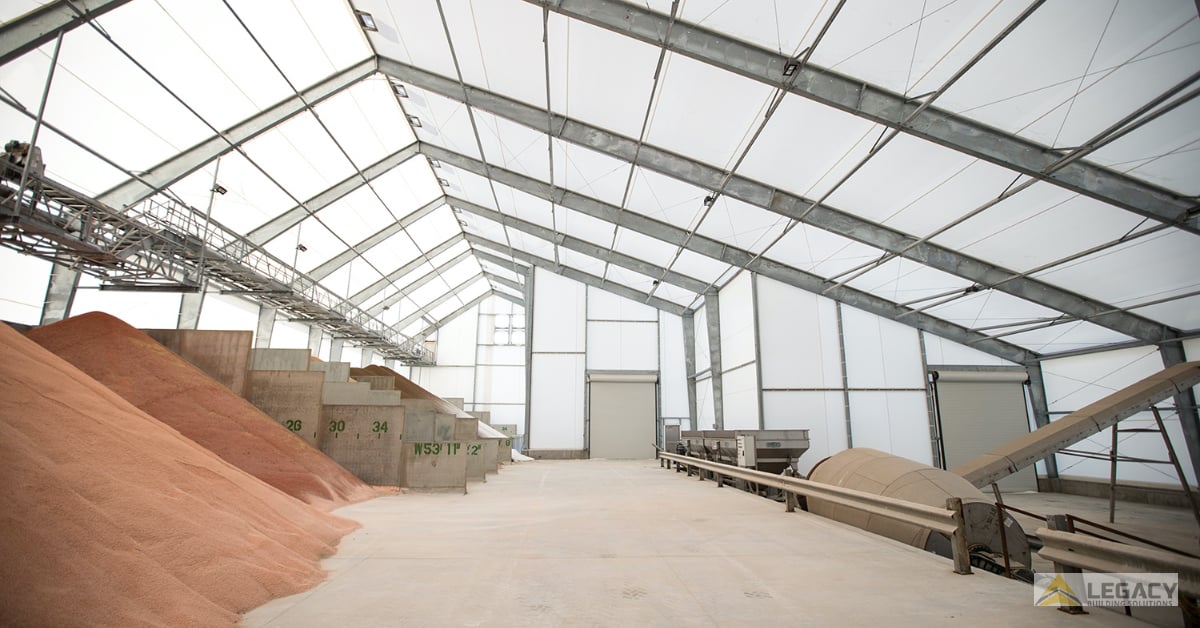 10. & Everything Else
Our 10th lesson encompasses everything else—natural light, acoustics, ventilation, hanging loads, etc.
Let There Be Light
Working with the right fabric and steel has made all the difference for Legacy these past ten years. It has helped us construct beautiful buildings that will last decades.
Over the years, however, we've discovered some not-necessarily-obvious benefits of working with steel and fabric. Often, we discover them when our clients mention them.
Our fabric is translucent and lets in about 12% of the natural sunlight. That means the walls and roof panels act like skylights. When the entire building lets natural light flow through into the interior a couple of things happen.
First, some clients notice that they don't need much electrical lighting, even on cloudy days, because of the naturally lit interior.
Second, a naturally-lit interior is very calming. This was especially evident with our equestrian facilities where the owners told us natural light was very important for keeping their horses focused and calm without subjecting them to the elements. In fact, clients in many of our industries comment on the natural lighting. The trick is, you can't really appreciate how amazing a naturally-lit structure is until you step inside one of them.
Read the statistics on natural light in the workplace in our resource, Let There Be Light
Sounding On
When we started working with sport facilities, our clients began to comment on the acoustic differences between our fabric structures and traditional buildings, especially steel buildings. It's much quieter in our buildings which can be a distinct advantage in practice facilities where coaches want to be heard. With steel roofs and steel walls, as you can imagine, the echo effect inside traditional metal structures can be very distracting and noisy. This same acoustical advantage can help calm horses in our equestrian facilities. Even the entertainment venues we have built get high marks in acoustics from the building owners.
Because our structures are more like traditional buildings, we typically have eaves and soffits where the roof meets the exterior wall. With our soffits, we can introduce passive ventilation into our buildings. That's important with our insulated buildings because we want some air flow between the exterior cladding and the interior liner to keep the insulation dry. When you work with industrial fabric like our ExxoTec™, you have to take into effect how airtight the buildings are. Once the panels are in place, there's virtually zero air leakage either in or out of the interior. That's great for heating and cooling costs, but it also can trap a lot of humidity and create condensation. That's why our passive ventilation is a key feature.
Get a Load of This
One of the most significant advantages of using the solid steel frames is the ability to engineer them to support additional loads.
That means our storage clients can have the option of hanging heavy things (like cranes and conveyor systems) from our roof beams. Our sports facility clients can hang nets, basketball hoops, goal posts, and even running tracks from the ceilings. Clients who want to add office space inside the building can have mezzanines supported from above. We've even installed solar panels on the exterior of our roof panels for one client.
With all clients, being able to support fire suppression systems and HVAC ventilation is a benefit that also helps them comply with local building codes. The solid steel beams present in both the roof and walls grant clients a lot of options they can't get with traditional fabric buildings. It's often a matter of what they want and what they can imagine.
Thank you for indulging us with our 10-year lesson summary. May each lesson we've learned help us navigate the future to serve our clients and industries better.
Have a Project In Mind?